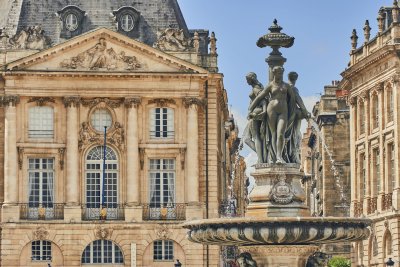 The city of Bordeaux a UNESCO heritage
s our Bordeaux hotel is close to many of the region's best attractions, including local points of interest like the Beaux Arts museum and the Place de La Bourse, our guests are sure to find that they are ideally placed to discover the nearby city of Bordeaux and its surrounding vineyards and rolling countryside.

Just a short drive from at the Best Western Hotel Le Bordeaux Sud, Bordeaux's UNESCO-listed city centre which is sure to impress visitors with its rich cultural and architectural heritage, 18th century buildings, contemporary designs, Roman amphitheatre, boutique shops, sidewalk cafes and charming entertainment venues.

On entering Bordeaux you will be charmed by its impressive river. Its port, local know as the Port of the Moon because of its shape, welcomes fleets from around the world since antiquity. It enabled Bordeaux pivotal role in international trade and commerce in the 18th century and hence the city's growth and wealth. A s a result The Place Royale (now Place de la Bourse), Grand Theatre, and Tourny – are classified in terms of architecture as amongst Europe's most interesting.
Each neighborhood is a testament to its history: Saint-Pierre in the heart of the Gallo-Roman harbor Burdigala, Saint-Michel and its Gothic spire, Saint-Eloi crisscrossed by picturesque streets, the neighborhood of City Hall where the Cathedral of St. Andrew stands as well as the Palais Rohan. In Bordeaux you will combine the pleasure of the senses to the pleasures of the mind.
Through its green setting and mild climate, Bordeaux is appreciated for its quality of life, punctuated with culinary delights and evening parties, and thrives on its proximity to the Atlantic Ocean and calm waters of Arcachon Bay.