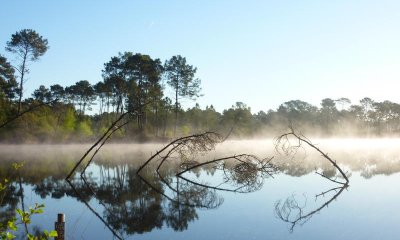 Natural Wonders close to the Hotel
Geological Nature Reserve Saucats-La Brede proposes a journey tracing back to over 20 million years ago when the Atlantic Ocean covered the land – discover the sedimentary rocks, fossils of sharks, coral and tropical shells.
The Lagoons of Gât Mort, composed of quarries and untouched lagoons in the middle of the pine forest, are a poignant remnant of the ancient history of the Grande Lande of Gironde. These glacial lakes are composed of forests and wetlands that are discovered by following a circuit punctuated with observational points.
The Bourgailh site in Pessac is a 65-hectare wooded natural site that has become a natural space dedicated to the environment and sustainable development, a unique site of its kind in France.